So, sit back and enjoy surfing!
On board, every maneuver can be carried out effortlessly, circulation is facilitated and, regardless of the situation, safety is omnipresent.
In the cockpit of the Sun Odyssey 42i, space is not lacking. Equipped with two steering wheel, a multifunctional table, 3 very spacious lockers and a locker used as a life raft, the Sun Odyssey 42i is an extraordinary sailboat whose characteristics allow you to live comfortably on board.
Photo Gallery
Tech Specs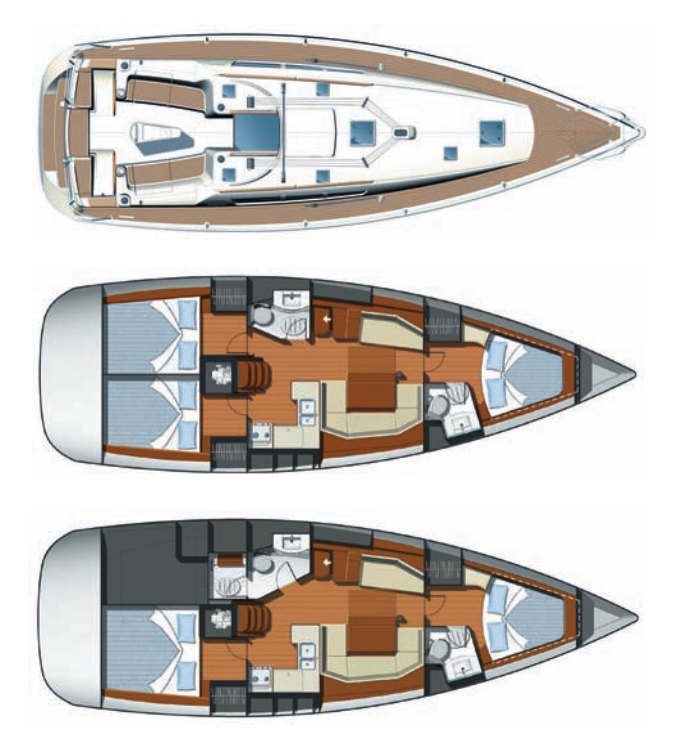 | | |
| --- | --- |
| Anno | 2012 |
| Lunghezza fuori tutto | 12,85 m |
| Lunghezza scafo | 12,59 m |
| Larghezza scafo | 4,13 m |
| Dislocamento a vuoto | 8.410 kg |
| Pescaggio zavorra standard | 1,60 m |
| Capacità serbatoio carburante | 355 l |
| Capacità serbatoio acqua | 130 l |
| Superficie velica totale | 81,50 mq |
| Motorizzazione | Yanmar 54 HP |
| Cabine | 3 |
| Bagni | 2 |
| Passeggeri | 6 + 2 |
| Dinette trasformabile | Si |
| Bandiera | Italiana |
| Dotazione di sicurezza | Entro 50 M |
| Note | Gennaker disponibile, imbarcazione immatricolata navigazione consentita Costiera entro 50 M |
Pricing
| | |
| --- | --- |
| 01/01 – 02/05 | € 1.500 |
| 02/05 – 23/05 | € 1.800 |
| 23/05 – 13/06 | € 2.200 |
| 13/06 – 11/07 | € 2.700 |
| 11/07 – 01/08 | € 3.000 |
| 01/08 – 15/08 | € 3.600 |
| 15/08 – 22/08 | € 3.300 |
| 22/08 – 05/09 | € 2.700 |
| 05/09 – 19/09 | € 2.200 |
| 19/09 – 26/09 | € 1.800 |
| 26/09 – 31/12 | € 1.500 |
| Deposit security | € 3.000 |